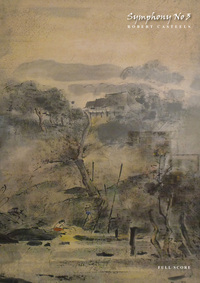 Symphony no. 3
For Chinese symphony orchestra (2 bangdi [1st doubling on xun in the 2nd movement], 2 qudi [1st doubling on xiao in C in the 2nd movement]; 2 gaoyin sheng, 2 zhongyin sheng; 1 diyin sheng; 2 gaoyin suona [1st doubling on levered soprano guan in the 2nd movement]; 1 jiajian zhongyin suona [doubling on levered alto guan in the 2nd movement], 1 jiajian cizhong suona [doubling on levered bass guan in the 2nd movement], 1 diyin suona [doubling on levered double bass guan in the 2nd movement]; 2 yang qin; 2 liuqin; 4 pi pa; 4 zhong ruan; 2 da ruan; 1 gu zheng 1 [tuned to flats]; 1 gu zheng 2 [tuned to naturals]; 6 percussionists [timpani, piccolo snare drum, glockenspiel, 6 paigu, vibraphone, 5 mu yu, ta gu, Chinese suspended cymbal, marimba, banzi, bass drum, xylophone, geophone, yun luo, 6 fang xiang]; grand piano [with 'sostenuto' pedal]; 6 gaohu, 12 erhu, 6 zhonghu, 6 violoncelli and 3 basses

Duration: 13'
In 3 movements: tempo giusto/ tempo giusto/ tempo giusto
Composed in 2006
First performance: 20.09.13 Singapore Chinese Orchestra conducted by Tsung Yeh SCO Concert Hall, Singapore
ISMN 979-0-9016519-2-0
Parts: To rent the parts, please email <rc@robertcasteels.com>

Downloadable scores for inspection:
Programme notes:
Symphony No. 3 is based on an artwork painted by Cheong Soo Pieng in 1961. Born in Xiamen (China) in 1917, Cheong Soo Pieng studied at the Xiamen Academy of Art from 1933 to 1935 and subsequently enrolled at the Xinhua Academy of Fine Arts in Shanghai. He arrived in Singapore in 1946. Inspired by Cubism and Expressionism, Cheong experimented ceaselessly with various media including oils, Chinese ink on paper and cotton, mixed media sculptures, porcelain work and paintings on tiles and porcelain. His experimentation was also much influenced by trips overseas such as his visit to Bali in 1952 and Europe between 1962 and 1963. He remained very active until his death in 1983, and still is a prominent figure in the Nanyang School of painting.

Casteels was moved by Cheong's series called The Village because of the successful cubist reinterpretation of the traditional scroll picture. We all originate from our native 'kampong', hence the 3rd Symphony is based on the permutations of one single chord of natural harmonics. Growing out of our childhood 'kampong', we embark on our life's journey. At some crucial crossroad, a single different element could trigger off a different chain of events; different people hence lead different lives. Similarly, each movement of the 3rd Symphony starts with the same chord, yet develops differently. The same 'sliding door' opens to 3 different worlds: the first movement opens up to a carefree walking bass, the second to an introverted impression of grief, the third towards an extroverted expression of confident 'joie-de-vivre'.