Speaker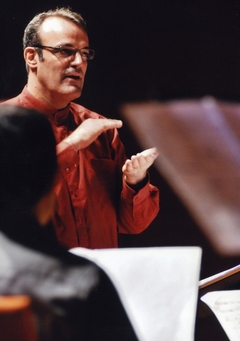 Robert Casteels believes that it is important, as a musician, to share his love and knowledge of this art form with others, to demystify the aura surrounding musicians and to make music accessible to the layman.
Dr Casteels was invited by the Alliance Française de Singapour to present an inaugural series of public lectures and he has since spoken on a variety of topics ranging from European art music, opera, ballet, the symphony, the concerto to jazz.
He has spoken at pre-concert talks for the Singapore Symphony Orchestra (SSO), for The Substation in the series "Love Notes", for the NUS Alumni in the series "Home Coming". He enjoys giving interactive commentaries in concerts that he has conducted with the Malaysian Philharmonic Orchestra, Singapore Symphony Orchestra, the Singapore Lyric Opera, the Singapore National Youth Orchestra, National University of Singapore Guitar Ensemble and the Philharmonic Winds.
Through master classes, Dr Casteels has shared his experiences as a conductor and composer with students in schools and at the tertiary level.
Amongst other papers and articles, Dr Robert Casteels also presented:

• "Birds are the True Masters of Song"
Article published by Nature Watch, the official magazine of Nature Society (Singapore) Volume 18 No 2 (Apr-Jun 2010)
• "And all the rest of it"
Lecture on astronomy and music for the 17th Annual IPS-NYP Astronomy Retreat, Batam Indonesia (June 2010)
• "Why was Bach Great"
Pre concert talk for the 2008 Piano festival, Victoria Concert Hall, Singapore
(June 2008)
• "Alla turca: Ottoman influences on 18th century classical music"
Asian Civilisations Museum, Singapore
(September 2004)
• "Globalisation or Glocalisation?"
Australian National University, Canberra
(April 2003)
• "The Role of the Conservatoire in the Asia Pacific Region"
Griffith University, Brisbane Conference 'Connecting With'
(April 2002)
• "A prismatic view on Varèse's Hyperprism"
LASALLE-SIA College of the Arts College seminar
(March 2002)
• "Can a correlation be established between creativity and polyglotism?"
National Institute of Education, Nanyang Technological University (Singapore)
(February 2001)
• "Employability for Arts graduates in Europe"
LASALLE-SIA College of the Arts College seminar
(February 2001)
• "Employability for Arts graduates in a tough business driven society"
European League of Institutes of the Arts
(Keynote speech of the final round-up conference in Amsterdam in December 2000)
• "BKMH, an example of the use of technology in the arts"
9th International Conference of Asia Pacific in Singapore Confederation for Arts Education 'Crossing boundaries between Art & Technology'
(July 1999)
• "Cross-cultural compositions for gamelan orchestra"
The School of Music of the Victoria University (Wellington, New Zealand)
(June 1999)
• "Orchestration techniques for mixed compositions involving gamelan instruments"
The Faculty of Music of the University of Melbourne (Melbourne, Australia)
(August 1998)
• "Berlayar"
National Institute of Education, Nanyang Technological University (Singapore)
(August 1998)
• "Debussy: La Mer"
The Queensland Conservatorium/Griffith University (Brisbane, Australia)
(October 1998)
• "Das 21. Jahrhundert Orchester"
Eötvös Institute (Budapest, Hungary)
(September 1993)<-->
last updated on 25 Apr 11