Conductor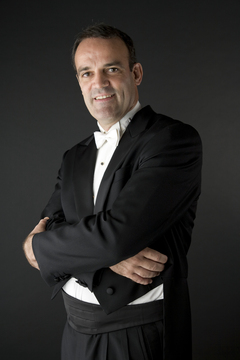 Casteels has guest conducted more than 50 professional orchestras in 20 countries including the Singapore Symphony Orchestra, Singapore Lyric Opera, Malaysian Philharmonic Orchestra, Hong Kong City Chamber Orchestra, Melbourne Symphony Orchestra, Queensland Symphony Orchestra, Tasmania Symphony Orchestra, Orchestra Sinfonica delli Emilia-Romagna (Italy), and the Nationaal Orkest van België (Belgium). He has made his conducting appearances in some of the most sought-after concert venues in the world, including Wiener Konzerthaus in Vienna, Konzerthaus in Berlin, Palais des Beaux-Arts in Brussels and Alice Tully Hall in New York.

At Juilliard, he clinched the prestigious Bruno Walter Memorial Scholarship two years running and was appointed Music Director of the Juilliard Pre-College Symphony Orchestra. After graduating from Juilliard, he was appointed Resident Conductor at the Royal Opera House of Brussels while he was concurrently heading the symphonic, opera and chamber music department at the Koninklijk Conservatorium Brussels in Belgium. As Artistic Director of 'Sounds of an Ignored Landscape', an independent and non commercial production company based in Brussels, he raised seed capital and conducted chamber operas that were broadcasted on Belgian national television, including the highly praised broadcast of Wolfgang Rihm's opera Jakob Lenz. A strong believer in the need to educate the next generation of musicians, he co-founded and was Music Director of the Ghent University Orchestra and the Brussels Wind Ensemble.

Since 1995, Casteels has contributed actively to the development of youth orchestras and ensembles in Singapore. As Music Director of the Singapore National Youth Orchestra, he was responsible for its first two recordings of professional quality, and as Music Director of the Philharmonic Winds, he led the ensemble to win the Gold with Distinction Award at the World Music Contest of Kerkrade, the Netherlands, with the highest mark ever scored by a Singaporean group. Working with the National University of Singapore (NUS)'s Centre for the Arts, Casteels conducted the NUS Choir and Symphonic Winds and led their participation in music festivals in Europe. He is currently Music Director and conductor of the NUS Guitar Orchestra (GENUS). Under his guidance, GENUS clinched 4th place at the 2nd International Guitar Competition held in Rheine, Germany, in June 2007.
"My conducting technique is based on the Russian-French school of Markevich; attending and analysing how Boulez worked with the BBC Symphony Orchestra taught me rehearsal strategies; Mehta showed me how to accompany concerti and Eötvös how to balance an orchestra; Bernstein turned upside down all I thought I knew, sharing his passion for Chomsky. semantics, movies and literature". – Dr Robert Casteels
last updated on 25 Apr 11