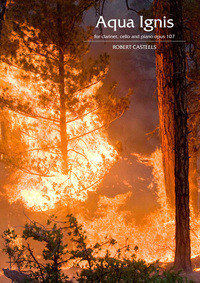 Aqua Ignis
for clarinet, violoncello, piano and three metronomes

Duration: 5'
In 1 movement
Composed in 2016
ISMN 979-090-16-5426-6
Parts: Please email rc@robertcasteels.com, or send a request to Orchard Post Office P.O. Box 714 Singapore 912324

Downloadable scores for inspection:
Sound Extracts:
You must enable JavaScript and install the

Flash

plugin to view this player

Tan Tzu Kuang (piano), Stephanie Tan (clarinet) and Liu Yun Bei (cello)
Programme notes:
Aqua Ignis refers to the Latin words meaning water and fire. This composition for clarinet, cello, piano and three metronomes is inspired by the devastating forest fires caused by human overexploitation of our planet's natural resources. The musical material of Aqua Ignis consists of one mode, one chord, one focal pitch, one retrogradable rhythmic cell and clusters.Aqua Ignis consists in a triple metaphor: dense clusters for fire, emerging harmonics for water and the ominous ticking of the metronomes for the urgency of time running out. The stepwise increase of the speed of the metronomes and the performance tempo symbolize the cumulative negative effects of climate change.