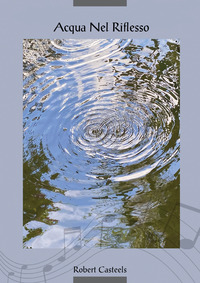 Acqua nel riflesso
Spoken and sung voices, dancers, orchestral suspended tubular bells, two pianos, pre-recorded soundtrack and electro acoustical transformation in real time (inspired by the title of the piece).

Duration: 24' 40"
In 1 movement
Composed in 2021
First performance: 30.09.21 R Casteels (piano 1), A Cortez (soprano), T Gan (piano 2), E Grizot (choreographer and dancer), Mohd Sharul Muhd (choreographer and dancer), L Quek (electro acoustician) and S Zuber (reciter, mezzo-soprano and movement artist). Esplanade Recital Studio, Singapore
ISMN: 979-0-9016548-6-0
Parts: To purchase the score, please email <rc@robertcasteels.com>

Downloadable scores for inspection:
Programme notes:
Courtesy of Covid-19, that what started as a modest piece for piano four hands became a virtuosic composition for two pianos in one movement. Sounds of the tubular bells mark the start of each of the seven sections, a practice Casteels learned in gamelan music, where such sonic markers are called colotomic. The music played by the two pianos are a reflection of each other. The piano parts grow into a massive cadenza. Aquatic sections with a pre-recorded track of synthesized sounds alternate with sections of purely acoustic music. Acqua nel riflesso (Water in reflection) contains discrete quotations of Debussy's Reflets dans l'eau (Reflection in the Water) and a quotation from The Irremediable opus 37 (1999) by Casteels for vibraphone, grand piano, gamelan-tuned piano and keyboard, the last three instruments being played by the same performer. Acqua nel riflesso contains two poems by the Italian poet Giuseppe Ungaretti. Sounds of part of the composition are transformed on stage in real time.
"C'est une pièce quasi liturgique!" Marc Abensour
Purchase:
Item:
Item ID No.: